Kelly-Marie T. Betts, MS, DDS
General Dentist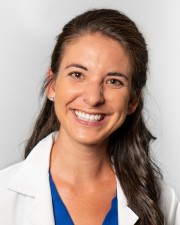 Dr. Kelly Betts is a general dentist with experience in a wide-range of comprehensive dental services, including cosmetic dentistry, Invisalign®, and sports dentistry. She worked as a dental assistant and hygienist for almost 10 years before becoming a dentist, which has allowed her to develop a very unique approach to dental care. Dr. Betts takes the time to listen and understand her patients' needs and concerns in order to provide them with long-term stability and comfort. She strives to make a fun and inviting experience for every patient by engaging in conversation and laughter.
Dr. Betts earned her Bachelor of Science in Dental Hygiene from The Ohio State University College of Dentistry. She furthered her education by completing her Master of Science in Biology, Cell and Molecular Biology from Towson University. Dr. Betts then went on to receive her Doctor of Dental Surgery degree (DDS) from the University of Maryland Baltimore College of Dental Surgery and finished her general practice residency at Veterans Affairs Medical Center – Dental Service in Washington, DC.
Dr. Betts is a member of the Academy of General Dentistry, American Academy of Cosmetic Dentistry, and Academy for Sports Dentistry. She is a certified Invisalign® provider and is also certified in Botox treatment.
When she's not in the office, Dr. Betts enjoys recreational sports, music, theatre, and spending time with her husband, Matt and their dog, Miles.