Posted under:
General
Posted on: May 22, 2014
Wisdom Teeth and Teens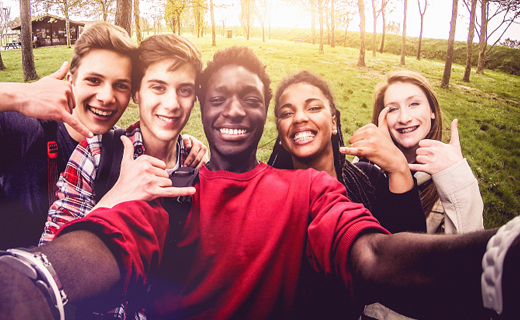 Wisdom teeth removal is something of a dental milestone for teenagers and is something about which every parent should have a good amount of knowledge. The wisdom teeth, otherwise known as the third molars, are the last set of large teeth to emerge. Because they generally make their appearance between 16 and 25 years of age, long after the eruption of other molars, they have earned the title of "wisdom" teeth.
When teenagers start to mention that they are experiencing pain or discomfort toward the back of the jaw area, there is a high probability that the wisdom teeth are preparing to erupt. After these teeth break the surface of the gums, thorough dental care, including brushing and flossing on a daily basis, is essential, because it is very easy for food and other substances to get caught beneath the gums, resulting in infection and swelling.
In many cases, the wisdom teeth cannot erupt smoothly simply due to the lack of sufficient room in the teenager's jaw. Crowding from existing teeth can cause the teeth to become blocked prior to reaching the surface of the gums, or even after the tooth's crown makes an appearance. Because infection and complications can result under such circumstances, it is quite common for an affordable dentist to then recommend that the wisdom teeth be extracted.
Many dentists suggest wisdom teeth removal as a preventive step if they believe there is a good chance that dental problems are likely to develop in the future otherwise. The procedure is performed well in advance of tooth eruption because if a wisdom tooth is allowed to stay put for an extended period of time, it can develop deeper roots that make eventual wisdom teeth removal riskier and more difficult.
Wisdom teeth removal is widely believed to be an effective technique for preventing gum infection, tooth decay, and discomfort due to pressure inside the mouth. When wisdom teeth are left untouched, they also have the potential to cause the shifting of existing teeth that have already undergone orthodontic correction.
When it comes to dealing with teenagers and their wisdom teeth, a proactive stance is best. It pays to consult with an affordable dentist at the earliest opportunity to determine whether wisdom teeth removal is indicated. Delaying until major problems arise only makes the process more difficult and potentially painful down the road.
To learn about our family dentistry practice in Owings Mills, call Valley Dental Associates today at (443) 898-1240 or make an appointment.
---
Valley Dental Associates offers affordable family dentistry and gentle, compassionate dental care in Owings Mills. Our office is conveniently located with extended hours to meet your needs. At Valley Dental Associates, we provide most dental services, from basic preventative care and general dentistry to specialized procedures and complete dental reconstruction. We accept most dental insurance plans and offer affordable financial solutions for any budget. Patient satisfaction is our top priority and we strive to provide the exceptional, affordable dental care and personal touch that lead to lasting relationships. A smiling patient is our greatest reward and we look forward to keeping those smiles healthy, beautiful, and bright. Discover an affordable dentist who truly cares at Valley Dental Associates.