When to Seek Help for a Dental Emergency in Owings Mills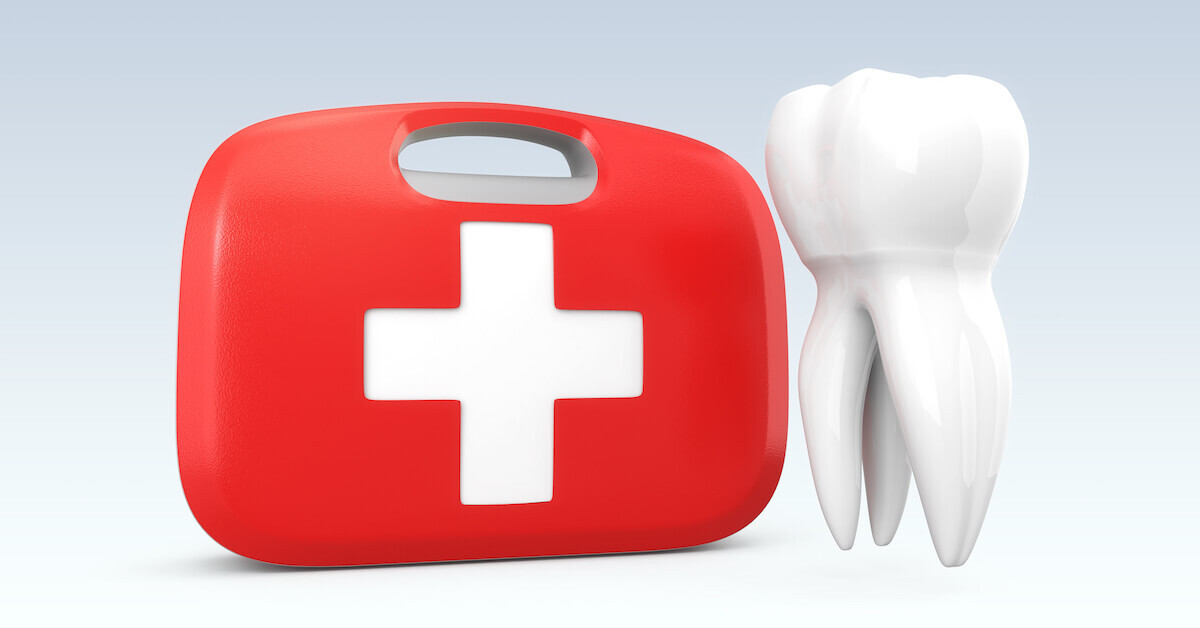 Do You Need Emergency Dental Services in Owings Mills?
A dental emergency can disrupt your entire life—you can't eat, you don't want to smile, you're probably in pain, and you might be bleeding. However, knowing the steps to take when you have a dental crisis can help you feel more confident about its outcome. The CDC reports that emergency dentistry costs more than $45 billion annually in lost job productivity and causes more than 34 million lost educational hours, but this cost can be significantly reduced by practicing good oral hygiene. Other emergencies can be prevented by being prepared.
What Qualifies as a Dental Emergency?
Although the definition of an emergency can vary by the individual based on their tolerance level for pain and their willingness to endure it, dental professionals agree on several issues that constitute an emergency. If you have pain around or in a tooth that doesn't respond to over-the-counter medications and it disrupts your sleep, then you have a dental emergency because you might have an abscessed tooth or another type of serious infection. Cavities can also cause debilitating pain and when left untreated, they can become abscessed. Untreated tooth decay affects more than one-fourth of adults and two-thirds of adolescents in the U.S. If you've injured the inside of your mouth, whether it's a tear or puncture or laceration, then you should seek dental emergency treatment in your local area. Other issues that can be considered emergencies include:
Chipped, cracked, loose or knocked-out teeth
Chills and fever that accompany mouth pain
Excessive bleeding that's associated with a gum injury
A swollen air passage that inhibits breathing
Other issues that may not be considered a true emergency but can benefit from our same-day, walk-in dental services are:
Losing a crown or filling
Damaging your bridge
Gums that bleed when you brush your teeth
Losing a porcelain veneer when you're eating
Sensitivity to temperature when you're eating or drinking
What Are the 7 Signs of a Dental Emergency in Owings Mills?
The following seven dental issues qualify as emergencies and you should seek immediate treatment from an emergency dentist.
A fractured or dislodged filling: If you have a broken filling, its jagged edges can cut your cheek or tongue, so if you dislodge or break one or more fillings, be sure to seek emergency treatment without delay. This will also help prevent additional damage to the tooth or teeth.
Bleeding profusely after trauma or an extraction: If you've had an extraction or experienced trauma to your face or jaw and the bleeding doesn't stop, it's called hemorrhaging and you need to seek immediate treatment. This is a very serious situation that can be life-threatening, so don't delay in seeking treatment.
Gum injuries: If you've injured your gums, no matter the reason, it's vital that you visit your dentist as soon as possible. The wound needs to be cleaned and treated, and your dentist needs to ensure that your surrounding teeth haven't been damaged.
Facial edema: Facial swelling can be caused by several conditions, including a severe allergic reaction, a fracture, an infection or some type of inflammation, or a TMJ dislocation. All of these conditions require emergency treatment, so don't delay in seeking emergency treatment at your local dentist.
Knocked-out tooth: If one of your teeth has been tooth knocked out, your dentist may be able to reinsert it as long as not more than an hour has elapsed since it happened. If you're active in high-impact sports, the ADA recommends that you keep an ADA-approved emergency tooth preservation kit on hand.
Dry socket pain and infection after extraction: According to the CDC, fewer than five percent of people develop a dry socket after a dental extraction, but for those who do, it can be excruciatingly painful and over-the-counter painkillers may be ineffective. This condition occurs when a blood clot doesn't form in the socket after an extraction. The nerves and bone are then exposed to fluid, food, and air, and the ensuing pain can extend to the neck and ear and you may also experience dizziness or a headache, and sometimes an oral stench. Any of these indicate that you have an infection and need immediate dental treatment in Owings Mills.
Fractured jaw: If you've experienced trauma to your jaw and think it may have been fractured, then be sure to seek emergency dentistry in your area. Your dentist will ensure that your teeth aren't damaged or misaligned and can provide you with medication as necessary.
Does an Abscess Require Emergency Dentistry?
A dental abscess is very serious and treatment should never be delayed. Although you may think "it's just a cavity in a tooth," a dental abscess can become life-threatening or even fatal if left untreated. When treated promptly, the prognosis is usually good, but as many as 40 percent of patients with an abscess will die from sepsis or mediastinitis, which is swelling and irritation of the area between the lungs. The infection can also spread to the sinuses, the brain, the bloodstream or the bone marrow, and adversely affect the major organs. This is unnecessary and can be avoided if proper emergency treatment is obtained. Good oral hygiene usually prevents an abscess, but one can also be caused by:
An unsuccessful root canal
A fractured or cracked tooth
A wisdom tooth that has only partially erupted
These infections are caused by bacteria and are very painful. Your dentist will drain the abscess and start you on antibiotics to clear the infection, and then they'll evaluate the area to determine if the tooth can be saved or if it needs to be extracted.
Does a Cracked Tooth Require Dental Emergency Services?
Whether you cracked a tooth due to trauma or because of biting down on a hard substance, you should schedule an appointment for immediate treatment. If the damage was due to trauma from a sports activity, a custom-fitted mouthguard can help protect your teeth from future damage. If the tooth was cracked due to bruxism, a night mouthguard can protect your teeth from further erosion. If a custom-fitted mouthguard isn't feasible, then stock models are available or you can buy a boil-and-bite mouthguard that will fit more like a custom one. Whichever option you select, make sure that your mouthguard bears the ADA seal of acceptance. This will ensure that your mouthguard will work as it should and protect your teeth when properly worn.
Many dental issues can be prevented by proactive care, such as regular dental checkups and good oral hygiene habits. However, if you experience a dental emergency in Owings Mills, call our Dental Care Alliance practice for an appointment or come in if you need our same-day, walk-in service. We'll provide you with the highest-quality dental treatment at a price that will fit your budget, so contact us today. We look forward to working with you.