What Can Be Done About Sensitive Teeth?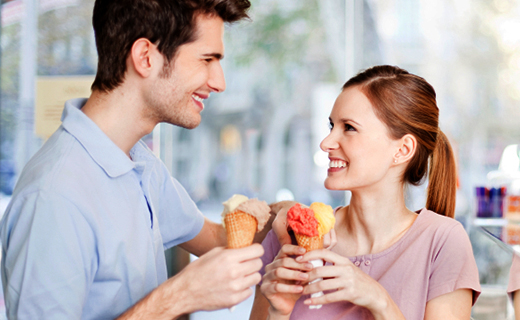 Anyone who has ever felt a sudden rush of pain while biting into an ice cream cone will agree that tooth sensitivity is no fun at all. Whether the triggers of this type of discomfort happen to be cold drinks, hot foods or even particularly acidic items, sufferers everywhere would surely welcome a solution. Fortunately, sensitive teeth that result from exposure of the tooth's dentin can be effectively treated.
To determine whether tooth pain is the result of tooth sensitivity or another, perhaps more serious problem, it is always wise to pay a visit to an affordable dentist. A dental care professional will be able to check for dentin exposure and do diagnostic testing to isolate the cause of the pain. In some cases, tooth sensitivity is the result of a cavity or gingivitis, both of which call for specific dental care treatments. But, it may be that a case of sensitive teeth is really due to the erosion of enamel or recession of gums that has caused dentin and root exposure.
If it turns out that a patient's tooth sensitivity is due to exposed dentin, several techniques can help to minimize discomfort. Dental care professionals have the ability to perform in-office treatments that include application of fluoride varnish to strengthen enamel and the use of fluoride foam or gels in conjunction with bite trays. An affordable dentist may choose instead to apply bonding agents as a means to seal the dentin and block exposure to irritants.
Patients can also pursue one or more available home dental care techniques that are likely to lessen the pain resulting from tooth sensitivity. Using a soft-bristled toothbrush together with toothpaste products that are low in abrasives can be a great place to start. It may also be worthwhile to use specialized toothpaste products formulated to help soothe inflamed nerve endings. Regular use of highly concentrated fluoride toothpastes obtained directly from your dentist in Owings Mills can also work to strengthen the surfaces of sensitive teeth.
To learn about our family dentistry practice in Owings Mills, call Valley Dental Associates today at (443) 898-1240 or make an appointment.
---
Valley Dental Associates offers affordable family dentistry and gentle, compassionate dental care in Owings Mills. Our office is conveniently located with extended hours to meet your needs. At Valley Dental Associates, we provide most dental services, from basic preventative care and general dentistry to specialized procedures and complete dental reconstruction. We accept most dental insurance plans and offer affordable financial solutions for any budget. Patient satisfaction is our top priority and we strive to provide the exceptional, affordable dental care and personal touch that lead to lasting relationships. A smiling patient is our greatest reward and we look forward to keeping those smiles healthy, beautiful, and bright. Discover an affordable dentist who truly cares at Valley Dental Associates.