Top 3 tips to help make your kids' teeth brushing a fun experience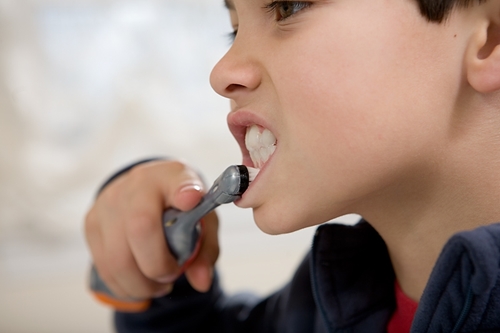 As most parents know, ensuring that your kids brush their teeth at least two times each day can be a major chore, especially in the morning before school when they're cranky and before bed when they get that unexpected surge of energy. However, there are a few ways that you can make an everyday activity like this far more fun for your kids each day and will help them have a favorable outlook on oral hygiene that will last a lifetime. Here are a few tips to get started.
Create a chore chart
As your kids grow up, they're going to have increased responsibilities around the house, but you can also weave in everyday activities like brushing their teeth, cleaning their room, walking the dog and other tasks. Place a small chart in the bathroom and have your kids put up stickers on each day when they've reached their dental goals. At the end of each week, give your kids a small reward, such as increased TV time, a trip to the local park or anything else that you feel is an appropriate means of showing your kids that they've done a great job.
Invest in an exciting toothbrush
One of the best ways to make brushing time for fun for your kids is to invest in a few child-themed dental products that will get them excited about brushing each day. Consider picking up a new toothbrush with their favorite cartoon characters, floss in a delicious new flavor or even picking out a new toothpaste, reported AHealthierMichigan.org. By giving your kids a bit more input in the decision-making process, they will feel like they had a bigger hand in their oral care regimen and will look forward to brushing each morning and evening.
Incorporate music into the routine
Because it's important for your kids to brush their teeth for at least two minutes, the Chicago Tribune suggests including one of your kids' favorite pop singers in the brushing regimen. Choose a song to play that's between two and three minutes long that they can enjoy as they brush to ensure that they clean their teeth for the appropriate amount of time. This small wrinkle could make your kids' dental regimen a bit more engaging and you can alternate between songs throughout the week to make your childrens' oral regimen a bit more exciting each day.
To get the dental care you deserve from an affordable dentist in Owings Mills, call Valley Dental Associates today at (443) 898-1240 or make an appointment.
---
Valley Dental Associates offers affordable family dentistry and gentle, compassionate dental care in Owings Mills. Our office is conveniently located with extended hours to meet your needs. At Valley Dental Associates, we provide most dental services, from basic preventative care and general dentistry to specialized procedures and complete dental reconstruction. We accept most dental insurance plans and offer affordable financial solutions for any budget. Patient satisfaction is our top priority and we strive to provide the exceptional, affordable dental care and personal touch that lead to lasting relationships. A smiling patient is our greatest reward and we look forward to keeping those smiles healthy, beautiful, and bright. Discover an affordable dentist who truly cares at Valley Dental Associates.