Start Your Child Off Right by Flossing Daily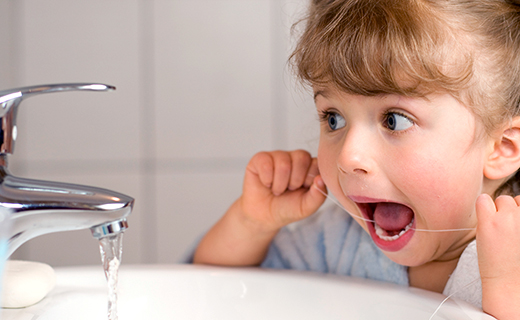 Flossing is an essential part of maintaining good dental health, and you should start doing it while your children still have their baby teeth. Once teeth start to fit together closely, between the ages of two and six, good dental care habits become even more important. If you start early, flossing will already be part of their routine when permanent teeth arrive. At first they will need assistance, but you can begin teaching your kids to floss by themselves as their dexterity allows. Most children can accomplish flossing alone by the age of ten.
To teach your child the proper flossing technique, start by choosing a soft and flexible dental floss. It shouldn't cause any damage to teeth or irritate gums. In the early training stages, tying the floss into small circles to fit over the child's fingers can help ensure a good grip. Once holding the floss becomes familiar, teach your child the following flossing procedure:
Remove approximately 18 inches of floss and wrap it loosely around each of your child's middle fingers. Leave about one inch of floss between them.
Show your child how to slide the floss gently between teeth while holding it taut with a thumb and index finger. Avoid snapping the floss down onto gums.
Next, have your child form a C-shaped curve with the floss and move it gently up and down between each tooth and under the gum line.
When it's time to move to the next tooth, use a new section of floss.
Don't be alarmed if some bleeding occurs while flossing. This is common, and should stop after a few days as gum health improves. If bleeding persists or gums become red, swollen, or painful, make an appointment with your child's dentist in Owings Mills.
To learn about our family dentistry practice in Owings Mills, call Valley Dental Associates today at (443) 898-1240 or make an appointment.
---
Valley Dental Associates offers affordable family dentistry and gentle, compassionate dental care in Owings Mills. Our office is conveniently located with extended hours to meet your needs. At Valley Dental Associates, we provide most dental services, from basic preventative care and general dentistry to specialized procedures and complete dental reconstruction. We accept most dental insurance plans and offer affordable financial solutions for any budget. Patient satisfaction is our top priority and we strive to provide the exceptional, affordable dental care and personal touch that lead to lasting relationships. A smiling patient is our greatest reward and we look forward to keeping those smiles healthy, beautiful, and bright. Discover an affordable dentist who truly cares at Valley Dental Associates.