Smile Makeovers in Owings Mills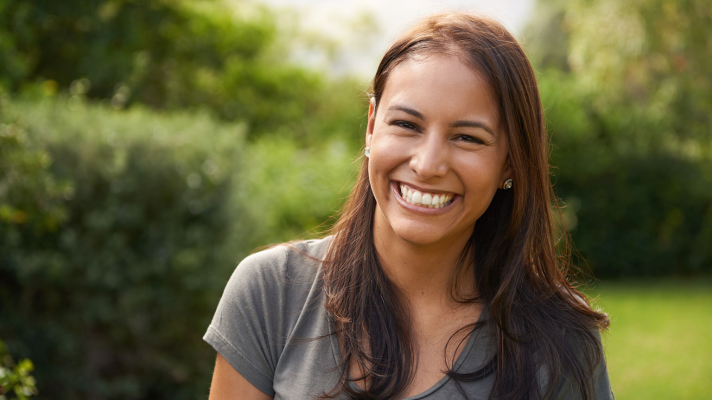 A person's smile reveals a lot about their personality, lifestyle and overall sense of confidence. Although it's best not to judge a book by its cover, people do still tend to make judgments about others based on the appearance of their smile.
Having stained, broken, or misaligned teeth might not be your fault, but it can feel like everyone is judging you for those common imperfections. At some point, you might even start hiding your smile out of embarrassment or the fear of being judged.
Your smile should be one of your favorite features, but it's okay if it isn't right at this moment. That's because our team at Valley Dental Associates in Owings Mills offers several important smile makeover treatments that will turn how you feel about your teeth completely around.
Some of our most popular treatments are purely cosmetic, while others can fix functional problems with your teeth and jaw alignment. Either way, you'll find that making an effort to improve your smile helps you show everyone exactly how happy you are to flash a big, toothy grin on any occasion.
Eliminate Embarrassing Stains With Teeth Whitening
Teeth stains are a problem that will eventually plague most people as they advance in age. Few people are born with perfectly white teeth, and the porous enamel is prone to picking up stains from the food you eat and beverages you drink.
Although it might seem hopeless if you have dark tea, wine, or tobacco stains, you can rest assured that teeth whitening in Owings Mills can quickly whisk them away. Dentists at Valley Dental Associates use professional whitening solutions that are better at removing stains than the products you can buy at your local pharmacy.
Our dentists also offer at-home whitening kits that make lifting stains more affordable and convenient for everyone. Knowing that your whitening kit is dentist-approved helps you feel better about investing in creating a brighter smile.
When you need a fast way to improve your smile, popping into our office for a whitening treatment can make a huge impact on your appearance. Whether you have a big event such as an anniversary or wedding coming up, you can get your smile photo-ready within as little as an hour.
Use Dental Crowns to Restore Damaged Teeth
Many people have bigger concerns than just a few stains, and you can still look forward to having a major smile transformation when you have deep cavities or cracks in your teeth. Allowing tooth decay to go on too long can sometimes cause the tooth to become to weakened to hold an oversized filling.
Or, you might have an old injury that caused a major crack in your tooth. With some teeth, there is still enough tooth structure left to avoid an extraction. But, you might still need some type of restoration to prevent the tooth from breaking or leaving a large cavity in your smile zone.
Dental crowns are made from durable materials that are shaped to fit over the entire top of your tooth. Your dentist will help you select the right kind of crown to fit your needs, and this usually is based on the location of the tooth that they are repairing. If the tooth falls within your smile zone, then choosing a tooth-colored dental crown can ensure that it looks as natural as possible.
Correct Your Crooked Teeth With Invisalign®
Many people live with teeth that are slightly crooked. While misaligned teeth are often viewed as an aesthetic problem, you could be at higher risk of developing cavities if your teeth are packed too closely together. Invisalign® is an option that our dentists frequently use for adults who prefer to avoid the obvious glare of metal in their mouth.
The Invisalign system is designed to be as discreet and comfortable as possible. Using impressions and images of your mouth, a dentist will order a set of clear plastic trays that slowly move your teeth into their ideal positions. The length of your Invisalign treatment can vary, but most people wear their aligners for around a year or two before switching to the maintenance phase.
If you've always wondered if you would be a good candidate for Invisalign, then a simple visit to Valley Dental Associates can help you find out if this is the answer to getting a straighter smile.
Transform Your Smile With Veneers
Veneers fall into the category of being one of our more expensive smile makeover options, but we can use this treatment to correct the appearance of multiple teeth during only one to two office visits.
A veneer is a thin piece of dental material, which is usually porcelain, that our dentist will permanently adhere to your tooth on the side that everyone sees. They're perfect for hiding stains and chips while still maintaining the general appearance of your natural teeth.
Each day that you wait to plan your smile makeover is one that you could've spent smiling with greater confidence. Do any or all of these treatments sound amazing to you? If so, give Valley Dental Associates in Owings Mills a call to begin working with our dentist to plan an amazing smile makeover today.