Quick Care Guide for Braces and Retainers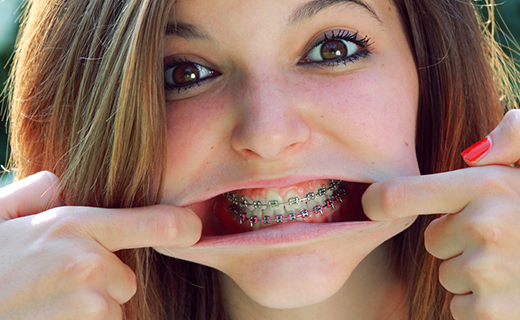 Once your kids are wearing effective, affordable braces, you'll want to be sure they know how to take care of them. If you're investing in braces for kids, it's essential that you teach your young ones what foods to avoid and how to brush and floss properly, so the orthodontics can provide the best results. The following tips can help get you and your kids acquainted with the routine dental care and management of braces and retainers.
Dental Care Tips for Braces and Retainers
Most orthodontists will recommend gentle brushing after every meal and snack.
When brushing with braces, use a soft brush, and brush down from the top and up from the bottom of each tooth.
After regular brushing, use a Proxabrush to clean between braces.
When flossing, feed the short end of the floss through the space that separates the main arch wire from the upper portion of the tooth nearest the gum. Use a gentle, sawing motion.
After brushing and flossing braces, brush the retainer.
To disinfect the retainer, soak it in denture cleaner and warm water daily.
Avoid foods that are hard to bite, tough, or chewy. These include apples, bagels, chewy caramel, corn on the cob, popcorn, raw carrots, and nuts. Avoid chewing ice and gum.
When playing sports, use a mouth guard.
Use orthodontic wax to reattach loose brackets or improve comfort if braces or retainers cause mouth irritation.
If a band becomes loose, save it and schedule an appointment with your family dentistry professional to have it replaced or cemented back into place.
Use a pencil eraser to adjust broken or protruding wires into a more comfortable position. If this is not possible, use orthodontic wax to cover the protruding end. Do not try to cut the wire.
Loose spacers must be repositioned or replaced by the orthodontist.
If mouth sores develop from exposure to broken wires, rinse with an antiseptic rinse or warm, salty water.
To get the dental care you deserve from an affordable dentist in Owings Mills, call Valley Dental Associates today at (443) 898-1240 or make an appointment.
---
Valley Dental Associates offers affordable family dentistry and gentle, compassionate dental care in Owings Mills. Our office is conveniently located with extended hours to meet your needs. At Valley Dental Associates, we provide most dental services, from basic preventative care and general dentistry to specialized procedures and complete dental reconstruction. We accept most dental insurance plans and offer affordable financial solutions for any budget. Patient satisfaction is our top priority and we strive to provide the exceptional, affordable dental care and personal touch that lead to lasting relationships. A smiling patient is our greatest reward and we look forward to keeping those smiles healthy, beautiful, and bright. Discover an affordable dentist who truly cares at Valley Dental Associates.