Protect Yourself From Bad Breath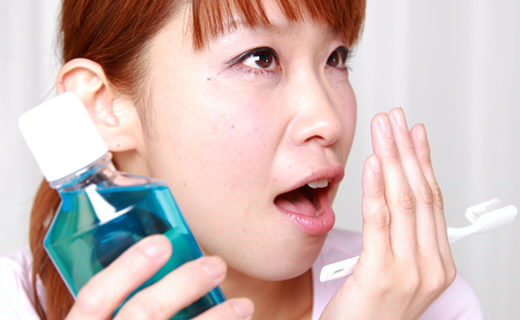 While bad breath is rather common, it's also rather embarrassing and probably something you'd rather not face. So the best ways to keep your breath clean and fresh is by maintaining good dental care, making regular visits to an expert in family dentistry, and knowing what's going to make your breath bad.
When it comes to preventing bad breath, that skinny string of floss can make a huge difference. Flossing on a daily basis can remove the food particles, bacteria, and plaque that lead to breath that's less than your best. Many studies show a link between a lack of flossing and bad breath. That's why you need to floss every day, in addition to practicing other good dental care habits like brushing your teeth and rinsing with mouthwash twice a day.
It may sound silly, but saliva is your friend. That's because plaque is a major cause of bad breath. And since plaque is more likely to build up if you have less saliva, you need to do everything you can to keep that saliva flowing so it washes away that pesky plaque. This means being aware of certain situations that can reduce the amount of saliva in your mouth and lead to bad breath. These include:
First thing in the morning ­– Saliva stops when you sleep, which has led to the notorious term "morning breath." Yet flossing in the morning will start your saliva back up again.
When you're hungry or thirsty – There is less saliva produced when there's been little food or drink in your mouth, so remember to drink enough liquids and eat on a regular basis. If you're dieting, try chewing gum or using mints to keep bad breath at bay.
After drinking alcohol – Beverages that contain alcohol can contribute to a dry mouth and bad breath, so try to alternate alcoholic drinks with water and floss after a wild night out.
If you practice good dental care and healthy oral hygiene but still suffer from bad breath, you need to talk to an affordable dentist in Owings Mills and even your doctor to determine if there is a larger problem. Bad breath can sometimes be the sign of a much more serious health issue, ranging from gum disease and strep throat to liver disease, diabetes, or cancer. You need to be proactive to be protected.
To learn about our family dentistry practice in Owings Mills, call Valley Dental Associates today at (443) 898-1240 or make an appointment.
---
Valley Dental Associates offers affordable family dentistry and gentle, compassionate dental care in Owings Mills. Our office is conveniently located with extended hours to meet your needs. At Valley Dental Associates, we provide most dental services, from basic preventative care and general dentistry to specialized procedures and complete dental reconstruction. We accept most dental insurance plans and offer affordable financial solutions for any budget. Patient satisfaction is our top priority and we strive to provide the exceptional, affordable dental care and personal touch that lead to lasting relationships. A smiling patient is our greatest reward and we look forward to keeping those smiles healthy, beautiful, and bright. Discover an affordable dentist who truly cares at Valley Dental Associates.