Posted under:
General
Posted on: May 7, 2014
Preparedness During Dental Emergencies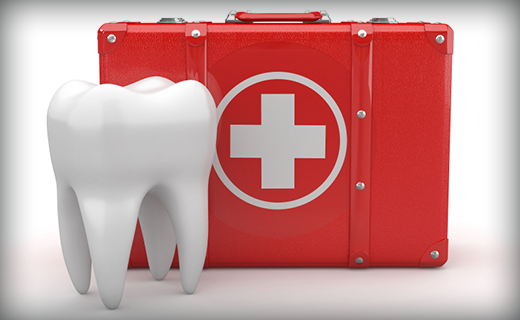 Dental emergencies, much like medical emergencies, require prompt attention and basic preparedness. Knowing how to care for your teeth, gums, and other potentially injured mouth tissues in an emergency dental situation can ensure that the victim retains maximum oral health. In many cases, your actions in the first few moments of the emergency can dictate outcomes. A major part of handling a dental emergency is contacting a dentist in Owings Mills immediately. If you have a dental emergency, but no insurance, remember that many dentists build openings into their schedules to accommodate dental emergencies and the cost is often more affordable than leaving the injury to chance. Use this guide to always be prepared during dental emergencies:
Knocked-Out Tooth
Knocked-out teeth should be gently cleaned and rinsed with warm water to remove dirt and debris. Do not scrub the tooth. Handle the tooth by the crown only. Store the tooth in a cup of hot salt water or warm milk. Contact your dentist immediately for a "right now" emergency dental visit. Knocked-out teeth can generally be saved if professional care is received within an hour of loss.
Broken Tooth
If a tooth becomes broken, rinse the mouth with warm water. If swelling or facial injury has occurred, use a cold compress to reduce inflammation. Find all broken fragments, gently rinse, and store in warm salt water or a soft cloth. Contact an emergency dentist immediately. Much like knocked-out teeth, broken teeth require emergency dental care to optimize outcomes. Broken can teeth that are left untreated can cause many issues throughout life.
Loose Tooth
Loose teeth should be handled delicately. If the tooth wiggles, use your tongue or gently press with your finger to move it into normal alignment. Do your best to keep in place and seek emergency dental care immediately. Getting help within in 30 minutes will improve your chances of saving the tooth and avoiding further injury.
Toothache
Toothaches can lead to headaches, fever, and sleepless nights. The pain can often be extreme and the cause of the toothache may be difficult to discover. If you have a toothache, do not place aspirin on the aching tooth or gum. Instead, rinse your mouth with warm water and floss carefully to ensure no food or debris is trapped and causing pain. If the pain persists for 48 hours, schedule an appointment with your dentist.
Tongue, Lip, or Cheek Lining Laceration
Tongue, lip, or cheek lining lacerationsshould be gently cleaned with a clean, soft cloth.  Reduce swelling and bleeding by applying a cold compresses. If you are unable to control the bleeding, after approximately 15 minutes, visit the hospital emergency room. You can follow up with your family dentistry practitioner in the event further treatment is needed to protect the tissues of the mouth.
To learn about our family dentistry practice in Owings Mills, call Valley Dental Associates today at (443) 898-1240 or make an appointment.
---
Valley Dental Associates offers affordable family dentistry and gentle, compassionate dental care in Owings Mills. Our office is conveniently located with extended hours to meet your needs. At Valley Dental Associates, we provide most dental services, from basic preventative care and general dentistry to specialized procedures and complete dental reconstruction. We accept most dental insurance plans and offer affordable financial solutions for any budget. Patient satisfaction is our top priority and we strive to provide the exceptional, affordable dental care and personal touch that lead to lasting relationships. A smiling patient is our greatest reward and we look forward to keeping those smiles healthy, beautiful, and bright. Discover an affordable dentist who truly cares at Valley Dental Associates.