Posted under:
General
Posted on: December 30, 2014
Monitor Your Wisdom Teeth to Maintain Good Dental Care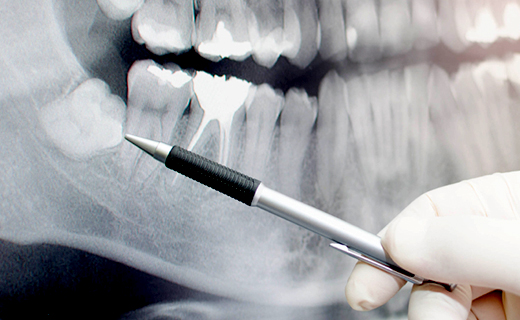 It is believed that ancient man had bigger mouths and a greater need for a few extra teeth later in life. However, the third molars, or wisdom teeth, are seemingly useless to modern man. These four teeth that line the upper and lower portions of the back of the mouth are cause for distress, pain, and discomfort, and lead to wisdom teeth removal for many people. Nearly 85% of all individuals must have their wisdom teeth removed at some point in their lives, according to the American Association of Oral and Maxillofacial Surgeons (AAOMS). This makes routine monitoring of your dental health by your dentist in Owings Mills essential to your long-term wellbeing.
Do I Have Impacted Wisdom Teeth?
Because the signs and symptoms of impacted wisdom teeth are not always obvious, a proper diagnosis by your dentist is required. However, some people do experience symptoms if they have impacted wisdom teeth. If you experience any of the following, see your dentist in Owings Mills to determine if you require tooth extraction:
Pain
Inflammation around your jaw
Red, swollen, tender, or bleeding gums
Headaches or aching of your jaw
Foul breath
Bad taste in your mouth
Will I Require Wisdom Teeth Removal?
Not everyone requires wisdom teeth removal, but those with symptoms of possible complications will require a tooth extraction. A simple outpatient procedure, wisdom teeth removal is generally done at the dentist's office. Local or general anesthesia may be given during the tooth extraction process to minimize discomfort.
Your dentist will first make an incision in the gums and remove any bone that might be blocking the impacted wisdom teeth. Then, each tooth is removed carefully and the socket is packed with gauze. The incisions are then stitched and the healing process starts.
Are There Risks in Deciding to Not Remove My Wisdom Teeth?
Although proceeding with wisdom teeth removal is your decision, it is a good idea to discuss your options with your dentist in Owings Mills and seek a second opinion, if you wish. Even if your wisdom teeth are not symptomatic, you could be at risk for complications. Most dentists prefer to remove the wisdom teeth before age 30, because the bone is more flexible, which reduces the possibility of complications during the tooth extraction. Not removing impacted wisdom teeth can lead to complications, including:
Development of cysts
Infection of gums
Increased bacteria in the teeth and gums
Poor alignment of teeth
Decayed teeth
Damage to adjacent teeth
Chronic discomfort in mouth
While your wisdom teeth may not be causing discomfort now, regular monitoring of them is critical to maintaining good dental care. You will need to visit your dentist in Owings Mills for an exam and x-rays that can diagnose damage, disease, and the risk of wisdom teeth complications.
To get the dental care you deserve from an affordable dentist in Owings Mills, call Valley Dental Associates today at (443) 898-1240 or make an appointment.
---
Valley Dental Associates offers affordable family dentistry and gentle, compassionate dental care in Owings Mills. Our office is conveniently located with extended hours to meet your needs. At Valley Dental Associates, we provide most dental services, from basic preventative care and general dentistry to specialized procedures and complete dental reconstruction. We accept most dental insurance plans and offer affordable financial solutions for any budget. Patient satisfaction is our top priority and we strive to provide the exceptional, affordable dental care and personal touch that lead to lasting relationships. A smiling patient is our greatest reward and we look forward to keeping those smiles healthy, beautiful, and bright. Discover an affordable dentist who truly cares at Valley Dental Associates.