Making Adjustments with Dentures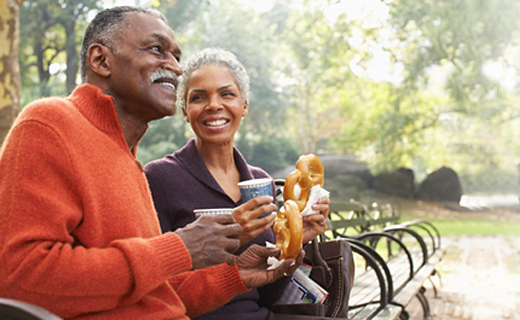 Change is hard, especially when it comes to your dental care. Losing teeth can make multiple aspects of life challenging. However, you don't have to withdraw from social activities when you are affected by missing teeth. Permanent and implant dentures are affordable solutions and require only a few weeks of adjustment. Simply spend a few weeks adjusting to the fit and feel of your dentures, slowly re-introduce your favorite foods to your diet, and practice certain patterns in your speech, then get back to loving life with your family and friends once again.
If you are concerned that you will never be able to eat your favorite foods, such as steak, corn on the cob, or apples, you just need to spend some time in the beginning learning how your dentures function and making a few adjustments to your eating habits. Here are some ways to gain confidence when eating with your new dentures:
Chewing and biting will feel different at first, so you should begin with eating soft foods, such as eggs, yogurt, and steamed vegetables. Be patient and get comfortable with various food textures before resuming your normal eating habits.
You may feel as if food has lost its flavor when you first start wearing dentures. Your taste buds are still working, but your brain is more focused on things like keeping your dentures in place. As you adjust to your dentures, your sense of taste will return and eating will become second nature again.
Use caution when consuming extremely hot or cold foods and beverages. Much like your sense of taste, sensing hot and cold may be more difficult than usual because the focus your brain has currently shifted to learning to use your dentures.
You can begin eating chewy and crunchy foods once again as you get used to wearing dentures. Remember to cut your food into small pieces and chew thoroughly. Over time, you will become confident with eating.
Corn on the cob, whole apples, and other foods that require strong biting force may require that you use a denture adhesive to give you greater security in the placement of your dentures and keep food particles from getting underneath them.
To get the dental care you deserve from an affordable dentist in Owings Mills, call Valley Dental Associates today at (443) 898-1240 or make an appointment.
---
Valley Dental Associates offers affordable family dentistry and gentle, compassionate dental care in Owings Mills. Our office is conveniently located with extended hours to meet your needs. At Valley Dental Associates, we provide most dental services, from basic preventative care and general dentistry to specialized procedures and complete dental reconstruction. We accept most dental insurance plans and offer affordable financial solutions for any budget. Patient satisfaction is our top priority and we strive to provide the exceptional, affordable dental care and personal touch that lead to lasting relationships. A smiling patient is our greatest reward and we look forward to keeping those smiles healthy, beautiful, and bright. Discover an affordable dentist who truly cares at Valley Dental Associates.