Like the rest of the family, pets need dental care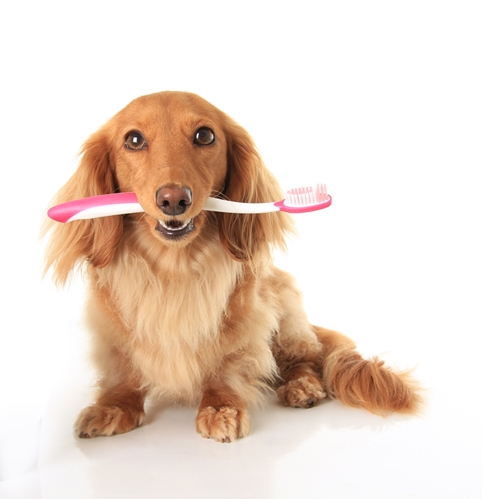 Everyone in the family needs to have their teeth checked periodically – even Fido or Fluffy. February, which is Pet Dental Health Month, is a good time to schedule an appointment with your pet's veterinarian for a dental exam and cleaning.
The American Veterinary Medical Association reports that by the time dogs and cats reach the age of three most are showing signs of oral disease.
"Between regular veterinary examinations, pet owners should look for the warning signs of gum disease such as bad breath, red and swollen gums, yellow-brown crusts of tartar along the gum lines, and bleeding or pain when the gums or mouth are touched," said Dr. Carol McConnell , chief veterinary medical officer of Veterinary Pet Insurance Company.
In addition, the AVMA advises pet owners to look for loose or discolored teeth, excessive drooling or dropping food from the mouth, loss of appetite and weight loss.
Just like humans, animals can develop built-up plaque that leads to tooth decay and bacteria levels that develop into gum disease. When parents are trying to teach their youngsters about the importance of visiting the family dentist and maintaining good dental health between trips to the dentist office, they should point out that the family pets need the same attention.
Pet owners can help
Just as they brush, floss and rinse to keep their own teeth clean and healthy, people can play a role in their pet's dental care. As with humans, cats and dogs have temporary "baby" teeth that eventually  make way for 30 permanent teeth in cats and 42 permanent teeth in dogs when the animals are a few months old.
A veterinarian can give pet owners tips on how to clean their animals' teeth and what kind of treats and food do best to keep plaque build-up to a minimum. For instance, there are dry foods formulated to prevent tartar from developing on cats' and dogs' teeth.
There are also brushes and toothpaste that's specifically for animals. If your pets are comfortable when you put your finger into their mouths, chances are they will allow you to brush their teeth gently. Start in an easy circular motion and work your way around each part of the mouth.
If your animals are very resistant to dental care, they can have their teeth cleaned periodically by a veterinarian.
As with children, it's best to acquaint your pets with a dental routine when they are young so they become used to it.
To get the dental care you deserve from an affordable dentist in Owings Mills, call Valley Dental Associates today at (443) 898-1240 or make an appointment.
---
Valley Dental Associates offers affordable family dentistry and gentle, compassionate dental care in Owings Mills. Our office is conveniently located with extended hours to meet your needs. At Valley Dental Associates, we provide most dental services, from basic preventative care and general dentistry to specialized procedures and complete dental reconstruction. We accept most dental insurance plans and offer affordable financial solutions for any budget. Patient satisfaction is our top priority and we strive to provide the exceptional, affordable dental care and personal touch that lead to lasting relationships. A smiling patient is our greatest reward and we look forward to keeping those smiles healthy, beautiful, and bright. Discover an affordable dentist who truly cares at Valley Dental Associates.