Posted under:
Root Canal
Posted on: November 24, 2020
Invisalign: Frequently Asked Questions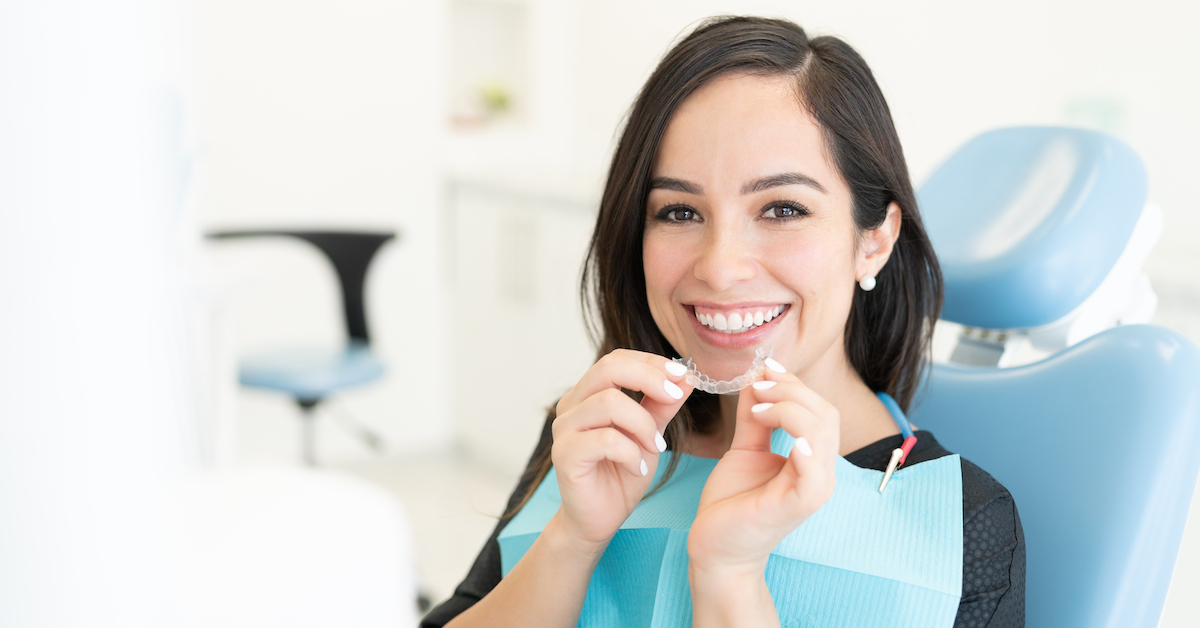 If you have crooked teeth that create embarrassment for you, our dental office can provide Invisalign aligners that provide near-invisible correction for misaligned teeth. We understand that crooked teeth can be a source of embarrassment for our patients. By working with our team of orthodontic and dental specialists, you can enjoy the most beautiful smile and the greatest confidence in all your interactions with others. Our office is committed to the highest standards of excellence in resolving your dental issues quickly, affordably and effectively.
What Is the Invisalign System?
Rather than using brackets, wires and other metallic components to straighten your teeth, Invisalign systems consist of a series of trays that fit over your teeth snugly. These aligner trays will gradually move the teeth into the proper position. After you have completed the first cycle with the aligner tray, you will move to the next one, and so on to continue with the correction of your teeth. Once all the aligners have done their work, you will have the straight and attractive teeth you have always wanted.
The flexible plastic used to create Invisalign trays is called SmartTrack. These aligners fit over your teeth snugly and are barely visible when interacting with others, which makes them an outstanding choice for those who are concerned about the metal appearance of traditional braces. Our office can provide you with orthodontic solutions that include Invisalign systems, retainers and traditional braces. We will discuss your options with you at your first consultation in our office.
Is Invisalign Right for You?
Invisalign is a practical choice for adults who want to resolve minor to moderate misalignments of their teeth to show off a brighter smile. If you are a teenager or adult who wants to look your best during all your everyday activities, Invisalign could be the right option for your needs. Unfortunately, this straightening system is not right for everyone. Some patients would do better with a regular retainer or traditional braces.
Invisalign is not intended for severe misalignments. In these cases, choosing traditional braces is usually the best way to deal with crooked teeth and the embarrassment they can sometimes cause.
Children with teeth that are still growing should also wait for Invisalign until the size of their jaws and teeth has stabilized. If this practice is not followed, it may be necessary to fit and fabricate an additional set of aligners, which will significantly increase the cost of Invisalign.
If your schedule will not permit you to wear Invisalign aligners for at least 20 hours a day, including while you sleep, then a different orthodontic solution will typically be a better choice for you.
Cost is an issue for many of our patients. If the near invisibility of Invisalign is not a major selling point for you, traditional braces can cost much less and can realign your teeth more effectively.
Our dental team has the experience and the knowledge needed to provide you with the right recommendations for your specific situation and set of needs.
Understanding the Invisalign Process
Your Invisalign treatment will generally start with an initial consultation in our office. We will discuss your expectations and your goals for treatment to determine if Invisalign will be a good fit for you and your family. If you decide that you want to go ahead with Invisalign, we will discuss the treatment plan with you and will schedule you for an appointment to take detailed impressions of your teeth.
Once this process is complete, we will have your aligner trays fabricated and sent to our office. Our dentists will then schedule an appointment to make sure your aligners fit properly and to teach you how to use the Invisalign system.
Your aligners will come in a complete set that will gradually change the alignment of your teeth. As one aligner completes its part of the process, you will switch to the next one in the series. This will happen many times over the course of your treatment regimen. Depending on the progress made in moving your teeth, you will usually switch to the next aligner every two weeks or so.
You may be able to see progress as soon as two or three weeks after you begin treatment. Most patients switch to the next aligner every two weeks or so. We will monitor your progress at every phase of the process to ensure that your treatment goes as well as possible.
How Will Invisalign Change My Daily Activities?
For most patients, Invisalign will require a brief adjustment period. You will need a little time to get used to the feel of the aligners and to speak normally. Most of our patients manage this adjustment process within a few days of receiving their aligner trays.
You will need to remove the Invisalign aligners to brush and floss your teeth as you normally would. They should also be removed when eating or drinking to prevent damage or staining for these clear plastic aligners.
What Happens When You've Completed the Invisalign Process?
In some cases, our dentists will recommend wearing a retainer for a certain amount of time after you finish Invisalign treatment. This can help your teeth to stay in the right alignment and can provide you with the most lasting results from your Invisalign treatment plan. We will work with you at all stages of the process and will provide you with the care you need afterward to keep your newly aligned teeth looking their best.
How Can Our Dental Office Help You Get Invisalign?
If you are looking for comprehensive dental care that includes orthodontic services like Invisalign, our dental team is ready to provide you with the right recommendations and solutions for your needs. Call us today to schedule your first appointment with our team, we'll walk you through the process and schedule a consultation at a convenient time. We look forward to the opportunity to serve you and your entire family now and in the future.