Posted under:
General
Posted on: June 4, 2014
How to Clean and Maintain Your Braces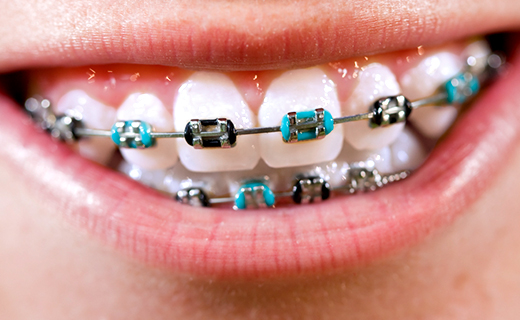 Did you recently get braces or are you considering braces? Braces are a big step and require added diligence to your dental care routine. However, the hassles are well worth the benefits. Straighter teeth, a more beautiful smile, and a reduced risk of dental disease—who doesn't want that? Staying the course can be challenging, but dental care experts have compiled a guide about how to clean teeth with braces and help you remember all the little things that will help you achieve the best results in the shortest amount of time.
What can you eat with braces?
The first week with your braces may require consumption of only soft foods, but the soreness will rapidly diminish and you will be free to eat a wide variety of foods. To optimally protect your braces avoid these foods until they are removed:
Chewy foods:  gummy candies, licorice, bagels
Sticky foods: gum, caramels, taffy
Crunchy foods: chips, ice, popcorn
Hard foods: nuts, candy, lozenges, hard breads
Foods you have to bite into: corn on the cob, apples, pears, carrots
Also, exercise caution, if you have a habit of chewing on objects, such as pens, pencils, or fingernails. These items can cause damage to your braces, leading to the need for repair and extended treatment.
Dealing with soreness.
The first week with braces can be tough. You will have to get adjusted to the way they feel in your mouth and you may experience some soreness. Many patients find comfort in a warm salt-water rinse and over-the-counter pain relievers. You may also find that the tissues of the mouth become irritated, but as you adjust, these surfaces will toughen to accommodate your braces.
Periodically, your braces will have to be tightened to ensure the benefits of the process. After these appointments, you may feel sore again for a few hours to a whole day. Much like your first week with braces, warm salt water and over-the-counter pain relievers can minimize the discomfort.
How to clean teeth with braces and retainers.
You will have to brush and floss more frequently with braces and retainers, as food and debris can more easily collect in the wires and between the teeth and appliance. Special brushes are necessary to assist in cleaning hard-to-reach areas.
You will need to brush after every meal and rinse with mouthwash to keep your braces free of food debris and to maintain a clean retainer.
Flossing is a more careful process that requires careful looping of the floss around wires to avoid damaging the braces or retainer and still clean between the teeth. Once daily is still recommended, but a little more time may be necessary to thoroughly complete the task, as compared to flossing without braces.
To get the dental care you deserve from an affordable dentist in Owings Mills, call Valley Dental Associates today at (443) 898-1240 or make an appointment.
---
Valley Dental Associates offers affordable family dentistry and gentle, compassionate dental care in Owings Mills. Our office is conveniently located with extended hours to meet your needs. At Valley Dental Associates, we provide most dental services, from basic preventative care and general dentistry to specialized procedures and complete dental reconstruction. We accept most dental insurance plans and offer affordable financial solutions for any budget. Patient satisfaction is our top priority and we strive to provide the exceptional, affordable dental care and personal touch that lead to lasting relationships. A smiling patient is our greatest reward and we look forward to keeping those smiles healthy, beautiful, and bright. Discover an affordable dentist who truly cares at Valley Dental Associates.