Fluoride: Too Much of a Good Thing?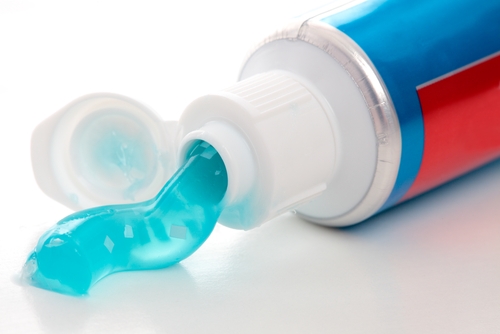 Fluoride is one of the most important minerals you can give to your child, especially when it comes to their dental health. Foods like sugar can create acid that removes the naturally occurring minerals from the surface of the tooth, causing tooth decay, or what is commonly known as a cavity. Fluoride remineralizes the tooth, preventing further cavities. Fluoride is crucial for human teeth, and fortunately it is in almost all naturally occurring water sources – but can you have too much of a good thing?
In the case of fluoride, yes. Too much fluoride, especially in children under the age of 8, can result in fluorosis, a discoloration of the enamel on the permanent teeth. These changes are usually subtle, but can also appear as yellow or brown spots on otherwise white teeth.
Fluoride toxicity can also occur, but it is very rare because large amounts of the mineral must be ingested. Nemours reports that children under age 6 account for more than 80 percent of those suspected to over-ingest fluoride. While these cases are usually not fatal, they require trips to the emergency room and remind parents why it's important to teach children not to swallow toothpaste.
To ensure your children are not getting too much fluoride, find out how much is in your water source. Most municipalities will add fluoride to their water sources at a low concentration to fight tooth decay, and will list the amount on their websites. Generally, a fluoridated toothpaste and water source will be enough to fight cavities without causing fluorosis. Ask your dentist whether your child needs a fluoride supplement if you are concerned his or her toothpaste, water or other dental products are not providing enough.
To get the dental care you deserve from an affordable dentist in Owings Mills, call Valley Dental Associates today at (443) 898-1240 or make an appointment.
---
Valley Dental Associates offers affordable family dentistry and gentle, compassionate dental care in Owings Mills. Our office is conveniently located with extended hours to meet your needs. At Valley Dental Associates, we provide most dental services, from basic preventative care and general dentistry to specialized procedures and complete dental reconstruction. We accept most dental insurance plans and offer affordable financial solutions for any budget. Patient satisfaction is our top priority and we strive to provide the exceptional, affordable dental care and personal touch that lead to lasting relationships. A smiling patient is our greatest reward and we look forward to keeping those smiles healthy, beautiful, and bright. Discover an affordable dentist who truly cares at Valley Dental Associates.