Posted under:
General
Posted on: March 6, 2015
Endodontics – Saving Teeth Through Root Canal Treatment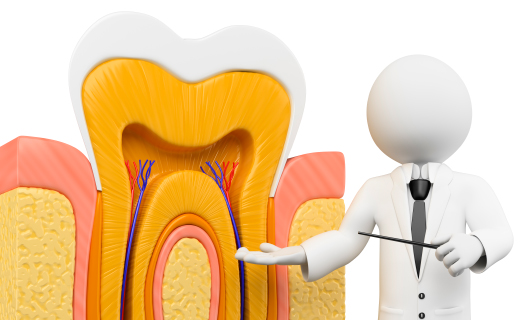 If your tooth is diseased or damaged, extraction isn't your only affordable dental care solution. Root canal therapy can end your pain and save your natural tooth. The center of your tooth is called its pulp. Pulp contains nerve tissues and blood vessels that helped nourish the tooth as it developed. If it becomes damaged through injury or infection, the pulp can safely be removed without destroying the tooth's structure and stability. A root canal removes and replaces the pulp and the material inside the tooth roots. Dentists who specialize in root canal treatments are called endodontists.
Reasons for a Root Canal 


If a tooth's pulp is badly damaged, a root canal is needed. This damage could be from infection arising from untreated cavities or an injury to the pulp caused by trauma, fracture, or previous restorations. Neglecting to have a root canal treatment may eventually require extraction of the tooth. Once a root canal is performed and a crown is placed, the tooth will probably remain stable throughout the rest of your life.
Treatment Procedure
You will first receive an injection of a local anesthetic. You may also receive sedation to help you relax. Your dentist or endodontist will make a hole in your tooth to access and remove the diseased pulp. He or she will then measure the tooth's root canals with the help of an x-ray or a device called an apex locator. Next, your dentist will remove all tissues from inside the root canals, disinfect the canals with antiseptic, and fill them with a flexible material. After the procedure, your tooth may be sensitive for a few days, but once you're healed, you will no longer suffer pain in the tooth. Each patient is different, but many root canals can be accomplished in one visit. Complicated cases and the presence of infection may require more work and time. Once the tooth roots are treated, a separate appointment to place the crown is usually required.
Root Canal Pain
While many people believe that root canals are painful, root canal pain is a myth. After receiving an anesthetic, you should feel no pain at all during your root canal treatment. With timely, affordable dental care from a skilled dentist or specialist in endodontics in Owings Mills, you can enjoy a pain-free mouth again.
To learn about our family dentistry practice in Owings Mills, call Valley Dental Associates today at (443) 898-1240 or make an appointment.
---
Valley Dental Associates offers affordable family dentistry and gentle, compassionate dental care in Owings Mills. Our office is conveniently located with extended hours to meet your needs. At Valley Dental Associates, we provide most dental services, from basic preventative care and general dentistry to specialized procedures and complete dental reconstruction. We accept most dental insurance plans and offer affordable financial solutions for any budget. Patient satisfaction is our top priority and we strive to provide the exceptional, affordable dental care and personal touch that lead to lasting relationships. A smiling patient is our greatest reward and we look forward to keeping those smiles healthy, beautiful, and bright. Discover an affordable dentist who truly cares at Valley Dental Associates.