Despite improvements, many states falling short on pediatric dental care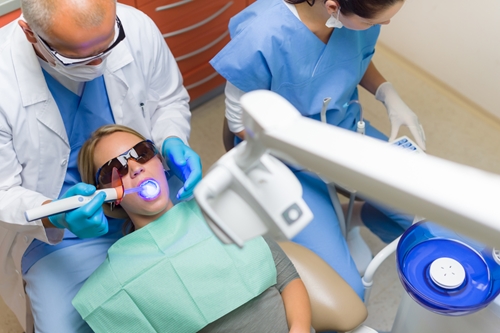 More than 16 million U.S. youngsters don't have access to regular dental care, although many states have improved dentistry services in recent years, according to a report from the Pew Charitable Trust's Center on the States.
The Pew study found that 27 states were graded as A or B, while 23 states and the District of Columbia earned only a C or lower grade for their dental services in 2011. However, 22 states improved their grades compared to the previous year's report and six states – Arkansas, Delaware, Massachusetts, Minnesota, Utah and West Virginia – increased their ratings by at least two grades.
Maryland was one of only seven states to receive an A rating from Pew in the report entitled, "The State of Children's Dental Health: Making Coverage Matter," which detailed public policies that cover both insured and soon-to-be insured children.
States that raised the quality of their services did so mainly by reimbursing dentists for preventative care, expanding water fluoridation in local communities and increasing the number of state-funded program-enrolled children who have access to a dentist office or clinic.
The news source found that many children don't receive the dental healthcare they need because of a shortage of dentists who are willing to serve low-income patients with a state-funded program as their insurer. Pew recommends that officials increase payment levels to dentists for state-funded program patients because the federal insurance program has not kept pace with their fees.
Prevention costs less
The Centers for Disease Control and Prevention (CDC) reports that tooth decay is the most common chronic disease of childhood. Eighteen percent of children ages 2 to 4 have experienced tooth decay, 52 percent of those ages 6 to 8 are affected and 61 percent of 15-year-olds have tooth decay.
Included in the Pew criteria that determined a state's rating for dentist services was the availability of dental sealants, which are clear plastic coatings applied to children's molars to block tooth decay caused by trapped food and bacteria. Sealants have been found to prevent decay at a much lower cost than restorative fillings once the decay leads to a cavity.
Pew contends that dental problems can impact youngsters' overall well-being and education in part because underserved children tend to miss more school days than those with regular dental services. In addition, the center's research showed that more children receive medical insurance to cover ailments than health plans that cover basic dental care.
To get the dental care you deserve from an affordable dentist in Owings Mills, call Valley Dental Associates today at (443) 898-1240 or make an appointment.
---
Valley Dental Associates offers affordable family dentistry and gentle, compassionate dental care in Owings Mills. Our office is conveniently located with extended hours to meet your needs. At Valley Dental Associates, we provide most dental services, from basic preventative care and general dentistry to specialized procedures and complete dental reconstruction. We accept most dental insurance plans and offer affordable financial solutions for any budget. Patient satisfaction is our top priority and we strive to provide the exceptional, affordable dental care and personal touch that lead to lasting relationships. A smiling patient is our greatest reward and we look forward to keeping those smiles healthy, beautiful, and bright. Discover an affordable dentist who truly cares at Valley Dental Associates.