Dental Care is a Team Effort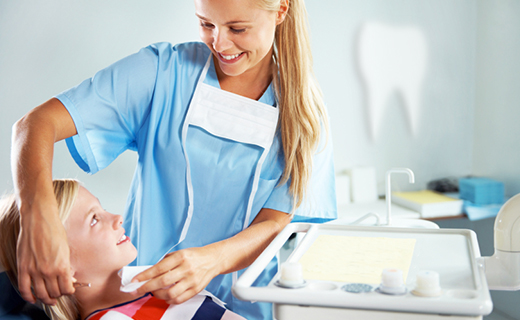 It is an unfortunate fact that many people skip routine visits to the dentist. Tooth decay is the second most common health condition in the United States and it's no wonder, considering a visit to the dentist is often delayed because people don't have insurance, can't find an affordable dentist, or live in fear of dentists in general. Whatever the reason, it's not a good excuse. Even the most diligent brushers and flossers need to see their dentist regularly for a professional teeth cleaning. Some bacteria can't be removed by at-home dental care. Your oral health is a team effort between you, your dentist, and your dental hygienist.
With such a large number of people skipping out on their dental visits, it's hard know just how often you should be heading to the dentist yourself. But, most experts say the minimum standard is twice per year—about once every six months.  Some individuals may be more prone to tartar build-up or susceptible to gum disease, making an extra visit or two necessary. Your dentist can make recommendations specific to your needs for how often your dental hygienist should perform a teeth cleaning.
Why do you need to visit the dentist twice a year for a teeth cleaning?
The rationale behind frequent visits is quite reasonable, and may even leave you a bit astonished if trips to the dentist haven't been a priority. Just a mere 24 hours following a professional teeth cleaning, the bacteria that the dental hygienist removed already begin to re-colonize in an attempt to harm your oral health. With facts like that, it's easy to see why proper dental care is a team effort. Neither you, nor your dentist and dental hygienist, can keep your mouth, teeth, and gums maximally healthy alone.
The recommendation for twice-daily brushing, once-daily flossing, and a routine rinsing with mouthwash is to keep excessive amounts of bacteria from building up. Some plaque will inevitably build up, and that is when you must have your dental hygienist perform a teeth cleaning. At about the six-month mark, bacteria that can't be reached by your at-home efforts will need to be removed professionally, before it calcifies. Missing that six-month mark can lead you to experience an unpleasant dental care visit of intense scraping or, worse, news that you have developed tooth decay or gingivitis.
A teeth cleaning may be a primary aspect of a dental appointment, but it is not the only reason to visit the dentist. Your dentist and dental hygienist can help you detect early signs of tooth decay and gum disease. The sooner conditions like these are diagnosed, the greater the possibility for effective treatment.
Next time you consider skipping a routine visit to the dentist for a teeth cleaning, think again—the health of your smile depends on it.
To learn about our family dentistry practice in Owings Mills, call Valley Dental Associates today at (443) 898-1240 or make an appointment.
---
Valley Dental Associates offers affordable family dentistry and gentle, compassionate dental care in Owings Mills. Our office is conveniently located with extended hours to meet your needs. At Valley Dental Associates, we provide most dental services, from basic preventative care and general dentistry to specialized procedures and complete dental reconstruction. We accept most dental insurance plans and offer affordable financial solutions for any budget. Patient satisfaction is our top priority and we strive to provide the exceptional, affordable dental care and personal touch that lead to lasting relationships. A smiling patient is our greatest reward and we look forward to keeping those smiles healthy, beautiful, and bright. Discover an affordable dentist who truly cares at Valley Dental Associates.