Are Your Habits Causing Tooth Sensitivity?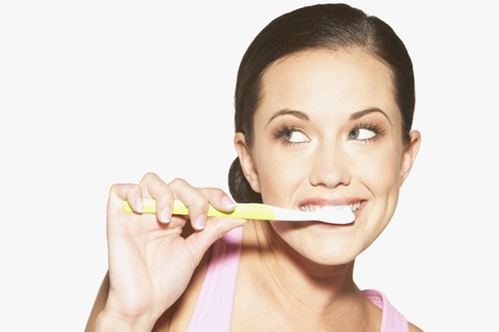 Some people suffer tooth sensitivity throughout their lives, but for others, it can come on suddenly or later in life. If your teeth are suddenly aching from cold, heat or sweets, you may want to modify certain behaviors to ease the pain.
One cause of sensitive teeth is brushing too hard, according to WebMD.com. If you use a hard-bristled toothbrush or press down too hard when you brush, you may wear down the enamel and and expose dentin on the teeth, making them more sensitive to hot, cold and sugary food and drink. Other times, brushing too hard can cause your gums to recess, painfully exposing the surface of the roots, which leads to the nerves. Switch to a soft-bristled brush or make a conscious effort to lighten up your brushstroke.
Grinding your teeth can also cause the enamel to wear down, causing pain. You might not even know you grind your teeth, since usually it happens while you sleep. If you have headaches when you wake up and are experiencing sensitivity on the the tips of your teeth, you may want to ask your dentist for a custom-made mouth guard to stop the damage, EveryDayHealth.com reports.