Posted under:
General
Posted on: September 24, 2014
6 Reasons for Your Child's Sensitive Teeth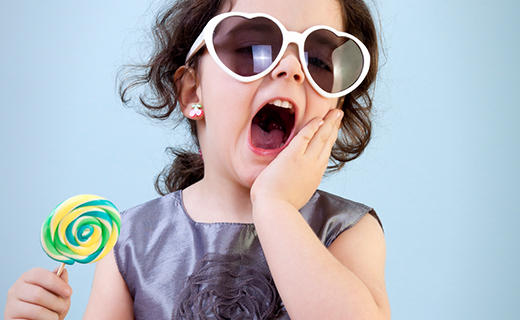 If you can't take the ache of sensitive teeth, imagine how it feels for a child to face these stinging and shocking sensations. And it's tough to tell if the pain they feel is truly tooth sensitivity or actually something else. So if your child complains about tingling teeth or a pang of pain when they brush or chew, chances are that your child is experiencing sensitive teeth and needs to see a dental care expert to treat those troubling tingles and twinges.
But as a parent, you want to protect your child from any pain and problems, or at least know that there's a cause for concern and quickly take them for treatment. So take a look at the leading reasons why children struggle with sensitive teeth so you can be aware and be prepared to get them to your family dentistry expert.
1. Cavity Catastrophe – Cavities are very common in children and this dental decay can lead to sensitivity.
2. New Tender Teeth – As kids lose their baby teeth, the emergence of new teeth can be a sore subject. But while the emergence of these teeth can be painful, it's really the sensation of air and food coming in contact with these teeth that causes tooth sensitivity.
3. Sinus Struggles – It's surprising to learn that children who have sinus problems often face tooth sensitivity, but it's important to know this congestion connection.
4. The Foil of Fillings – Kids with silver amalgam fillings find that their teeth tend to be sensitive because of the fillings' high thermal conductivity.
5. A Crack Attack – Adults often deal with the pain of cracked teeth, but children with misaligned teeth or a grinding habit may also have these hairline cracks and feel the sting of tooth sensitivity when chewing and eating.
6. Bad Brushing – Improper brushing rarely leads to sensitive teeth, but children with poor dental care habits may brush too hard and wind up wearing away the enamel and gums, which is felt in sensitivity. That's why children must learn good dental care and make it a lifelong habit.
Now that you know why your child may be dealing with sensitive teeth, talk to an affordable dentist about treating their tender teeth.
To learn about our family dentistry practice in Owings Mills, call Valley Dental Associates today at (443) 898-1240 or make an appointment.
---
Valley Dental Associates offers affordable family dentistry and gentle, compassionate dental care in Owings Mills. Our office is conveniently located with extended hours to meet your needs. At Valley Dental Associates, we provide most dental services, from basic preventative care and general dentistry to specialized procedures and complete dental reconstruction. We accept most dental insurance plans and offer affordable financial solutions for any budget. Patient satisfaction is our top priority and we strive to provide the exceptional, affordable dental care and personal touch that lead to lasting relationships. A smiling patient is our greatest reward and we look forward to keeping those smiles healthy, beautiful, and bright. Discover an affordable dentist who truly cares at Valley Dental Associates.